As Arizona fires rage, 7 states face extreme fire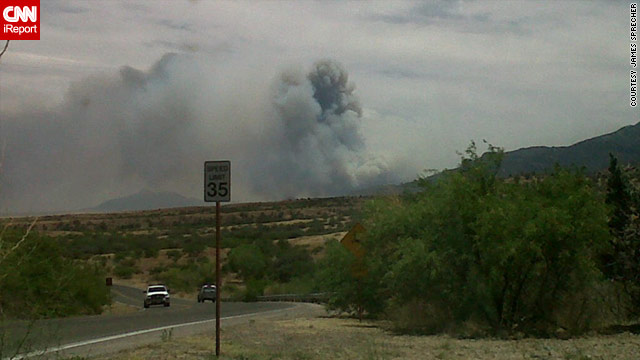 STORY HIGHLIGHTS
The risk of fire is high in Arizona, New Mexico, Texas, Colorado, Oklahoma, Kansas and Utah
U.S. Forest Service chief: A Southern Arizona fire is the "number one priority"
The chief says Arizona's Monument Fire "can't get any worse"
The cause of this fire, which is 27% contained, is under investigation, an official says
Are you there? Share your photos, videos and stories, but please stay safe.
(CNN) — Firefighters across the southwestern United States on Sunday could face some of the worst weather conditions of the season for battling blazes currently raging across the region.
The National Weather Service has issued a red flag warning for most of Arizona, all of New Mexico, much of north Texas and portions of Oklahoma, Colorado, Kansas and Utah for Sunday. A red flag warning means weather conditions — mainly high heat, low humidity and strong winds — pose an extreme fire risk.
"The winds certainly will be very gusty and strong," said Ken Daniel, NWS meteorologist in Flagstaff, Arizona. "Any new fire starts would have the potential to have explosive growth."
The forecast calls for winds of 30 mph or more in some areas, with gusts of up to 50 mph, Daniel said.
There are currently dozens of active wildfires burning in Arizona, New Mexico and Texas, according to InciWeb, an online interagency database that tracks fires, floods and other disasters.
Nationwide, wildfires have burned almost as many acres in the first half of 2011 than were recorded by the National Interagency Fire Center for all of 2010. The agency reports on its website that 3.1 million acres in the United States had been ignited by wildfires as of May 31, compared to 3.2 million burned acres cited in the organization's year-end report in November 2010.
One Arizona blaze that started May 29 has mushroomed into a massive wildfire that's scorched more than a half-million acres. A smaller but fast-moving blaze is raging in the southeastern corner of the state.
The latter of the two has emerged as "the number one priority" for firefighters nationwide, according to the chief of the U.S. Forest Service.
"The conditions that we're dealing with here are as bad as we can get," said Tom Tidwell, head of the U.S. Forest Service, of the combination of high temperatures, low humidity, ample "fuel" and strong winds. "It just can't get any worse."

McCain: Illegal immigrants caused fires
Gordon Van Vleet, a spokesman for the Joint Information Center, said that no cause has been determined for the Monument Fire, which has spread across the Huachuca Mountains and burned 20,956 acres as of Saturday afternoon. He said authorities likely won't state a cause until the blaze is more under control.
"We know where it started and when it started, but (the specific cause) is under investigation," Tidwell said. "When we do have that information, we will share it."
At a press conference, U.S. Sen. John McCain blamed illegal immigrants for starting unspecified fires in the area. The Arizona Republican, however, did not provide evidence to back up the accusation, which prompted rebukes from Latino civil rights leaders.
While a fire at the U.S. Army's Fort Huachuca is 100% contained, according to Van Vleet, the Monument Fire was 27% contained as of Saturday afternoon — an improvement over the 15% figure in the morning, but certainly dangerous given the inordinately dry and windy conditions.
"This has been the number one priority in the country for a couple of days," Tidwell said. "That means this will receive resources before anyone else."
The Monument Fire, just south of Sierra Vista, Arizona, has torched at least 40 homes.
Arizona Gov. Jan Brewer has issued emergency declarations for the Monument Fire and another blaze, Horseshoe II, making Cochise County eligible for $100,000 toward response and recovery expenses.
Meanwhile, residents of the eastern Arizona community of Alpine were able to return home, according to fire spokesman John Helmich. The community has a population of about 300, but many more seasonal visitors were forced to leave earlier this month because of the historically large Wallow Fire.
The Wallow Fire, which burned 500,409 acres, was 38% contained Saturday.
Tidwell said earlier Saturday that he was "very optimistic" that damage from future wildfires could be minimized by thinning forests and clearing out biomass — which did occur, to some extent, in parts of eastern Arizona. He noted that 3.2 million acres were "treated" nationwide last year.
Sen. John Kyl, R-Arizona, noted that the estimated $64.1 million price for the Wallow fire would more than double after the costs of mitigation efforts to prevent mudslides from the summer monsoons.
"Just think that what we could have done using those funds to treat those forests in advance," Kyl said.
But government budget strains have limited the amount of money going to such efforts. "The only way we are going to get these (forests) thinned is through greater participation of private enterprise," McCain said, adding that the government should try to facilitate such initiatives, including by allowing limited logging in national parks.
"There is simply not enough tax dollars to get the job done without them," McCain said of private companies.